Lab Sciences Engineering Sdn Bhd
Lot 14444A-1 (1st Floor),
7 1/2 Mile, Jalan Puchong,
Taman Pak Siong,
47100 Puchong,
Selangor, Malaysia.
+603-8723 1207
+603-8723 1207
Binder BF 56 Incubator
Series BF | Incubator - Heating Oven with Fan Circulation
BF 56 ( 23 Liter )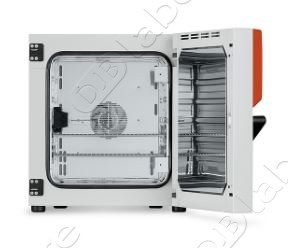 The Binder BF-56 Incubator Heating Oven is part of the Binder Avantgarde.line upgrade of the heating ovens ranges, the main upgrade is the fitting of the NEW Controller with an LCD display including a USB port for Data recording and the Electromechanical Controlled of the Exhaust air flap. The design of the Binder BF-56 incubator heating oven with fan circulated convection is suitable for all gentle incubation applications,particularly under a full load and large batch throughputs, this incubator is extremely homogeneous and has quick recovery times.
The Binder BF-56 incubator heating oven is fitted as standard with an inner door made from tempered safety glass and also has a class 3.1 Integrated independent temperature safety device with visual alarm. The heating oven also has an ergonomic design of handle and is supplied with 2 off Chrome Plated shelves, it can also be fitted with a large range of optional accessories to enable the user to configure the heating oven to their own requirements.

Important characteristics
• Temperature range (model 56): ambient temperature plus 7 °C to 100 °C
• Temperature range (model 115): ambient temperature plus 5 °C to 100 °C
• High temperature accuracy thanks to APT.line™ technology
• Forced convection
• Controller with LCD display
• Electromechanical control of the exhaust air flap
• Inner door made of tempered safety glass
• 2 chrome-plated racks
• Units up to 115 L are stackable
• Class 3.1 integrated independent temperature safety device (DIN 12880) with visual alarm
• Ergonomic handle design
• USB port for recording data
Dimensions:
Housing dimensions (mm)- 560 × 625 × 565
Interior dimensions (mm)- 400 × 440 × 340
Weight (kg)- 38